Slutkin's Revolutionary Approach Saves Many Lives
Speaking recently at the inaugural Leeuwenhoek* Lecture at the UIC School of Public Health in Chicago, Gary Slutkin, MD, Founder and Executive Director of Cure Violence, talked to attendees in a language we could all understand. Simply put, human behavior is all about imitation, or copying the behaviors of those around us — even when we're not conscious of doing so.
Slutkin, who is featured in Bright Lights of the Second City, explained the science and methodology that guides Cure Violence's work, as well as the organization's latest local and global initiatives.
The Cure Violence model is based on the standard approach to reversing any other outbreak of an epidemic disease, says Slutkin: first, interrupt transmission of the disease; second, reduce the threat to those at greatest risk; and third, change community norms.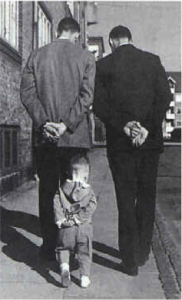 "The end game to reducing violence is a change in norms/expectations where violence occurs," Slutkin explains. "We're all products of our environment. We've copied and imitated someone or something,"
A few indicators of the success of the Cure Violence approach
1. According to a 2012 report by the New York City Council Task Force to Combat Gun Violence, Cure Violence, when properly implemented, reduces shooting incidents by between 16 and 34 percent. New York City Mayor Bill de Blasio announced in August 2014 that New York City will invest $12.7 million — nearly triple the previous year's budget allocation —in Cure Violence programs, expanding the program's reach to 14 of the city's highest-crime precincts.
2. The New York Times bestseller by Nicholas D. Kristof and Sheryl WuDunn, A Path Appears, focuses on transforming lives by sharing the compelling stories of how real people have changed the world. One of only a few organizations highlighted, Cure Violence is depicted as a beacon for its pioneering work – accomplished at the grass roots level — devoted to raising the stakes in accomplishing social change. A recent New York Times book review of A Path Appears reinforces the impact of the Cure Violence approach in reducing urban violence:
"The physician Gary Slutkin learned the principles of disease control from a decade of working in Africa, including in cholera-ravaged refugee camps; when he returned home to Chicago, he applied his knowledge of public health to curbing the spread of gang violence. He decided to treat violence as an infectious disease, hiring "violence interrupters" to stop the epidemic from spreading. The Justice Department found that Slutkin's organization, Cure Violence, reduced shootings by as much as 28 percent in some areas. Slutkin estimates a dollar spent on his programs saves $15.77 in medical and legal costs alone."
3. Here are a few recent domestic highlights: In Chicago, city-funded sites saw a 75% percent reduction in shootings; Yonkers, NY, went 27 months without a shooting or killing; and New Orleans recorded 200-plus days without a homicide. (Go to www.cureviolence.org for more specifics.)
* Antonie van Leeuwenhoek was a Dutch scientist who first observed previously unknown and invisible microorganism, leading to a scientific understanding of disease contagion and treatment of previously incurable diseases. The generous gifts of Leeuwenhoek League donors allow Cure Violence, in the same way, to make visible the contagious nature of violence, and to lead local, national and global efforts to treat and reduce violence using a health approach.